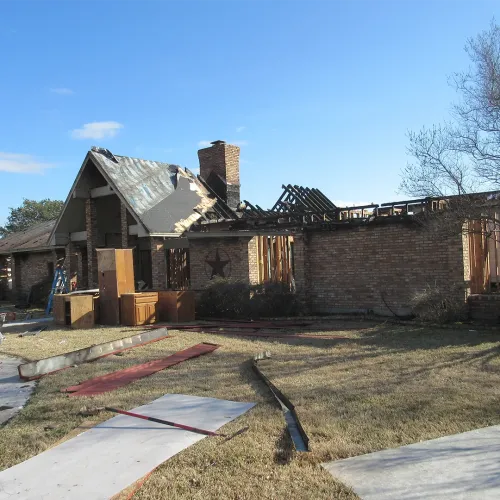 From emergency board-up and tarping to the complete fire damage restoration and reconstruction services, our trained technicians are well-versed on all aspects of the fire damage restoration and reconstruction of residential homes and commercial spaces.
Damage to your home or business can be not only inconvenient but also devastating. We pride ourselves on working professionally and efficiently to restore your property to its original condition as swiftly as possible. Our high-quality workmanship is evident in every fire restoration job we complete.
Since 1986, R. E. McClellen Construction has restored thousands of fire, water and weather damaged homes and properties in the Tarrant, Parker, Johnson, Hood, and western parts of Dallas counties.
Knowing you are in the hands of professionals who know what they are doing and are as concerned with the outcome as you are is one of the most important aspects of any restoration and reconstruction project.
We'll Eliminate Your Fire & Smoke Damage
At R. E. McClellen Construction, we pride ourselves on our impeccable customer service — from your first contact with our office staff, to our experienced technicians and project managers, your experience will be a positive one.
When disaster strikes and your commercial or residential property has been damaged, you will need a full-service contractor to show up and take care of the repairs.
When you aren't sure who to turn to or what to do, you can rely on our team at R. E. McClellen Construction. Experiencing a fire in your home or office can be an extremely traumatic event.
Fire damage restoration and smoke removal is a complex task that should only be performed by a professional fire restoration company.
Proven Restoration Solutions
Property Assessment


Performing a property assessment helps us determine the best course of action to take.  It enables us to design a custom fire damage restoration, demolition, and repair plan.  We recognize the importance of addressing fire and water damage in a timely manner to minimize the extent of the damage to your property. 



Emergency Repairs


Once we have the scope of work in place, if indicated, our crew will perform emergency repairs before the actual fire damage restoration and clean up. With any needed emergency repairs in place, you can count on us to carry out safe and efficient fire damage restoration service to your home or business. 



Deodorization & Odor Removal


We use professional-grade cleaning and sanitation equipment to resolve smoke damage and work to get rid of lingering odors. We'll also deodorize the affected areas so you can return to your routine as comfortably as possible.



Reconstruction & Repairs


In the majority of water and fire damage cases, a home will need to have repair and reconstruction services after the dry out and mitigation has been completed.  Following these services, we have skilled craftsmen that work together to complete the repairs to your home or business. 
Even though the damage may look severe to you as the owner, with our many years of fire and water restoration remodeling, we can produce amazing results.
R. E. McClellen Construction proudly serves residential and commercial property owners in Tarrant, Parker, Johnson, Hood and western parts of Dallas counties. You can put your trust in our team and the many years of experience we have estimating property damage and the repairs required.